We offer a variety of activities to enrich the lives of our residents.
Everyone is invited to participate in the life enriching programs at Vienna Village Assisted Living. Residents in assisted living, as well as the cottage residents, enjoy a full calendar of engaging activities taking place in our large multi-purpose dining room, craft center, and various living rooms throughout the building. Suzanne Simpson-Vogler, our licensed activity director, plans a variety of activities based on our residents' interests and abilities.
Among the regularly scheduled programs are Bingo, sing-alongs, craft sessions, card games, Scrabble, puzzles, and devotional services. Vienna Village Assisted Living hosts many volunteer groups who share their talents for music, dance, and community involvement with the residents when safety protocols permit. Once it is safe to do so, we will resume visits from groups including the Treblemakers, the Tapping Seniors, the Lewisville Garden Club, the public library, Forsyth Country Day School, and many other committed churches, schools, and organizations.
The activities coordinator works individually with residents to implement exercise programs and respond to concerns or requests for additional interest. All residents in our Winston‑Salem, North Carolina facility are encouraged to participate in any activities of interest to them, and we take time to get to know each resident at the time of move in to know better how to serve them.
We know that good food and good nutrition are tremendous drivers of resident satisfaction.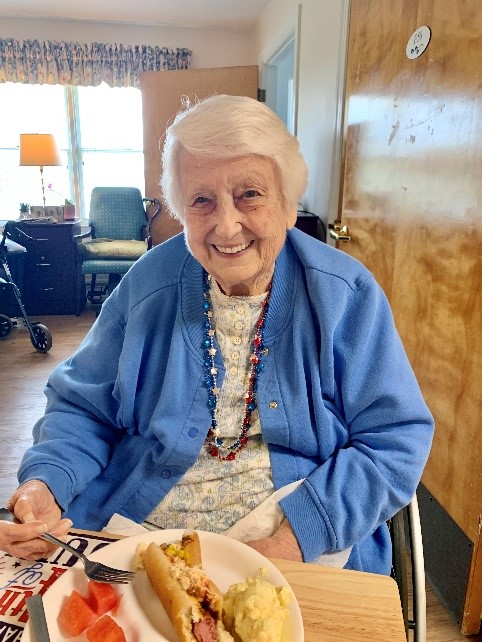 At Vienna Village, a Winston‑Salem, North Carolina assisted living community, meals are enjoyed in our lovely, bright dining room with family-style service and served hot at the table.
Breakfast is served "made-to-order" from 7:30 to 9 a.m. each morning and is prepared fresh for each resident based on their daily requests. Our menus include alternate choices and a variety of desserts, including options for diabetics.
At Vienna Village Assisted Living, we know that good food and good nutrition are tremendous drivers of resident satisfaction. Therefore, we strive to provide healthy meals that taste good! We never "deep fry," and we offer lots of fresh fruits and vegetables.
Ann Lowe, Administrator, personally coordinates daily menus, which are prepared and served by trained cooks and dining assistants. Ann Lowe is always open to residents' ideas for menu suggestions, and she incorporates those ideas into weekly menus. As an added personal touch, each resident gets to choose the Vienna Village Assisted Living lunch menu on their birthday.
All nutritional requirements for adult care homes are followed by the planned menus. Menu options include no added salt, no added sugar, and pureed meals.
We are committed to helping our residents stay physically, mentally, and spiritually healthy.
Between meals and before bedtime, our staff personally delivers beverages and snacks of choice to each resident's room. This is not only a daily treat, but it also encourages residents to drink and eat well, which is so important to residents' overall health. The resident can always use his or her call pendant to request drinks or snacks at any time day or night.
Whoever has a birthday at Vienna Village Assisted Living gets to choose the lunch menu of that day! Happy Birthday!