Our move-in process helps ensure a smooth and successful transition.
Getting Started & Next Steps:
Choosing to move to an assisted living community can seem like an overwhelming undertaking. However, Cheri Malek, our Director of Community Relations, guides all of our Winston‑Salem, North Carolina assisted living residents and their families through the process of making this important change.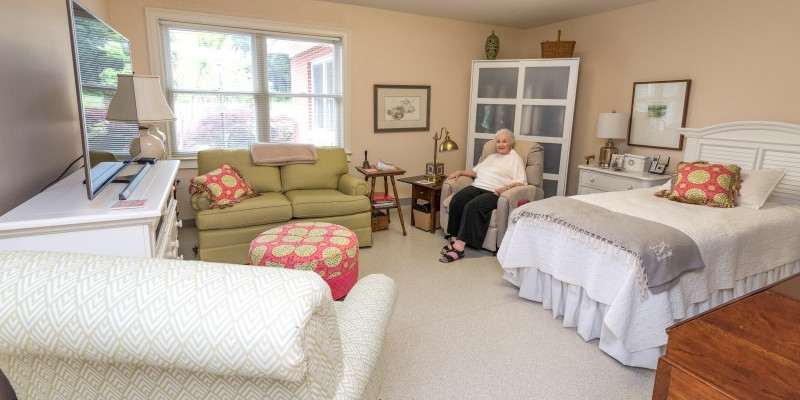 Getting Started:
Be proactive in recognizing the subtle changes in your daily routine or needs.
Do you seem to depend more on friends and family for simple errands or housekeeping needs? Does your medical condition require more physicians' appointments, medications, or monitoring than you feel comfortable managing without the assistance of others? Do you feel safe at home, especially at night? Is your family worried about you? Many times, these changes come about slowly and, without realizing it, you might have slipped into routines of dependence on others.
We are committed to helping our residents stay physically, mentally, and spiritually healthy.
Sometimes, the need for assisted living is more clear-cut. You may have already had accidents or crises at home, or you are already depending heavily on the assistance of others to remain safe and have physical needs met. There may have also been a medical emergency that required a hospital stay and, subsequently, discharging back home is not the best option.
Whether your need is immediate or lies potentially in your future, go ahead and make that first call to Vienna Village Assisted Living. Cheri Malek will sit down with you and discuss in detail your needs and how Vienna Village Assisted Living may be able to offer solutions to the problems you may already face or need to prepare for in the future.
The move-in process includes:
A visit to Vienna Village Assisted Living to further understand our philosophy and see our beautiful community and grounds.
An assessment of needs. Ann Lowe, our owner/administrator, will personally meet with the prospective resident at Vienna Village Assisted Living in his or her home, at the hospital or rehab facility, or other mutually agreed-upon location.
The selection of room and scheduling the move-in date.
Receipt of the required medical documentation:

a Tuberculin skin test
a signed FL2 which designates "Domiciliary Care" or "Assisted Living Care" and includes an accurate medications and diagnoses list. (The Director of Community Relations will assist you in obtaining this form from your physician or the medical facility.)

Completion of move-in paperwork with the assistance of the Director of Community Relations.
Relax and enjoy the peace of mind knowing that the service and care you need is available when you need it.
---
At Vienna Village Assisted Living, our residents come from many areas, including Winston-Salem, Davie County, Stokes County, Surry County, Yadkin County, Forsyth County, Elkin, Dobson, Pilot Mountain, Pinnacle, Advance, Clemmons, Tobaccoville, King, Yadkinville, Rural Hall, East Bend, Old Town, Pfafftown, and Lewisville, North Carolina.