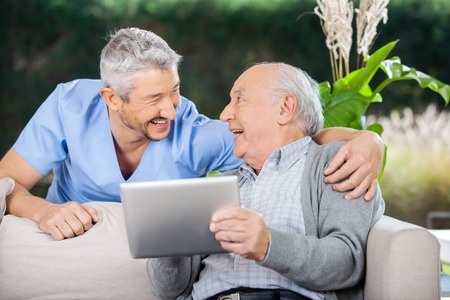 Are you unsure what type of gift is appropriate for a loved one in a facility for assisted living in Winston Salem? Birthdays and other holidays like Christmas can present a challenge because you want to give them something useful that also won't crowd their living space. Here are some gift ideas that meet those parameters for your parent or loved one.
E-reader or tablet – Your loved one won't have to worry about making room for stacks of books and magazines in their small assisted living space with an e-reader or tablet. These electronic devices make it easy to subscribe to magazines, newspapers and newsletters, as well as store an almost endless number of books and music. Plus, they have senior-friendly features such as adjustable fonts and font sizes.
Fitness tools and equipment – Daily physical activity is essential for your parent or loved one's quality of life. Lightweight fitness items can be excellent gifts to encourage a healthy routine. Small dumbbells, stretch bands, or other equipment that help with particular health issues, such as arthritis and joint mobility can be useful. Just check with your loved one's physician first to make sure a particular item will be safe and appropriate for them to use.
Clothes – One way to brighten your loved one's day is to give them something new to wear. Consider new slippers, a comfy bathrobe or sweater as a gift.
Home décor – Add some personality to your loved one's assisted living space by giving them some practical décor items like picture frames, art or small accent pieces. Handmade or personalized gifts, photobooks, and scrapbooks are also excellent choices, since they can help your parent adjust to their living space more quickly.
Snacks and small household items – You're almost guaranteed to put a smile on your loved one's face with a gift of their favorite cookies, homemade jams, scented candles or bath gift sets.
Vienna Village provides assisted living in Winston Salem that addresses the physical, mental and spiritual well-being of each resident. You can count on your loved one to enjoy highly personalized care since our staff-to-resident ratio far exceeds state requirements. Call us at 336-945-5410 or visit us to learn more about your assisted living services.